Les points relais : une histoire et un avenir
Depuis quelques années, les réseaux de points relais se sont développés dans toute l'Europe et constituent sans aucun doute une des solutions de livraison B to C.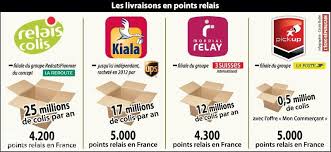 Ils présentent de nombreux avantages. En terme de service, cela permet au consommateur d'aller lui-même retirer son colis quand il le souhaite (en fonction des horaires d'ouverture) et de choisir son magasin. Le transporteur (et l'e-marchand) y trouve un intérêt puisqu'il massifie les flux vers un point au lieu de livrer de façon capillaire. Une livraison en point relais réduit le coût du transport et lui évite un second passage avec toute la gestion commerciale de ce passage ou de la mise en souffrance du colis. En terme environnemental, la massification des livraisons réduit le nombre de trajets et présente donc un intérêt écologique. Le magasin y trouve aussi un intérêt car, outre une rémunération (cependant assez faible), il peut accueillir de nouveaux clients et ainsi promouvoir ses services.
Sur le papier, le point relais est donc une solution (presque) parfaite à la problématique du dernier kilomètre.
Mais de quand datent ces points relais, que nous voyons se développer au travers notamment des quatre réseaux Relais Colis, Kiala, Pickup Service et Mondial Relay ?
Les points relais en France datent du début des années 1980, lors du très fort développement de la vente par correspondance avec La Redoute et les 3 Suisses. La Redoute lançait en effet à l'époque le 48 h chrono et l'équilibre délai / coût trouvait ainsi une solution aisée dans le point relais.
Relais Colis annonce une création en 1983 et avait une spécificité. Il était dédié à la Redoute, ou plutôt à sa filiale Sogep.
Aujourd'hui, les réseaux de points relais rattachés à un groupe de distribution (par exemple Relai Colis ou Mondial Relay) recherchent activement une diversification de la clientèle, qui permettra d'assurer la croissance et la rentabilité.
Quelles sont les évolutions à attendre ?
La conférence du 2 avril à 15h45 sur la SITL (click & collect, cross canal, consignes, points relais, livraisons sur RV, crowdsouring) apportera certaines réponses.
A priori, on peut prévoir une évolution vers l'automatisation. Nous connaîtrons les points relais « manuels » (les magasins) et les points relais « automatiques » (les consignes). Ces consignes peuvent d'ailleurs être situées à l'intérieur de magasins, ceci simplifiant la sécurité et la gestion du retrait, mais en choisissant des magasins avec une plage horaire d'ouverture la plus large possible.
Une autre évolution possible, clin d'œil à l'histoire de la VPC. Certains pure players, Amazon notamment, pourraient créer leur propre réseau de points relais en consignes automatiques. L'histoire est un éternel recommencement.
Autre sujet, l'opérateur de points relais est transporteur. Pourquoi n'organiserait-il pas la gestion des retours, voire la livraison à partir du point relais au particulier lorsque celui-ci la souhaite ?
Enfin, le point relais élargi sa cible concernant également le C to C. Ainsi, Ebay a signé un accord avec Mondial Relay qui permet ainsi à l'ebayeur de choisir une livraison en point relais.
Tous ces sujets montrent qu'un concept qui a plus de 30 ans comme le point relais est en constante évolution. La logistique du dernier kilomètre n'a pas fini de trouver des solutions innovantes !
https://www.logicites.fr/wp-content/uploads/2015/07/logo_website.jpg
0
0
Jérôme Libeskind
https://www.logicites.fr/wp-content/uploads/2015/07/logo_website.jpg
Jérôme Libeskind
2014-03-24 14:17:56
2014-03-24 14:17:56
Les points relais : une histoire et un avenir