Paris Retail Week : la logistique devient un axe central
Le salon Paris Retail Week, qui a lieu Porte de Versailles, est le rendez-vous incontournable de toutes les innovations autour de l'e-commerce et du cross-canal.
La logistique est devenue un axe central du salon. Pour confirmer ce positionnement, l'organisateur a placé les prestataires de transport et de logistique à l'entrée. Impossible de manquer cet espace qui regroupe les prestataires de transport du dernier kilomètre, de logistique, les fournisseurs de consignes de retrait de colis ou de points relais.
Une nouveauté de taille, des interviews à destination des exposants sont organisés par le cabinet de conseil Neo 26, fondé par Franck Journo. Le ring de boxe est là pour mettre en situation ce combat virtuel autour des innovations et tendances profondes du salon. Thomas Garnesson, managing director de Sevensenders France, plateforme export de colis au départ de la France, affûte ses armes…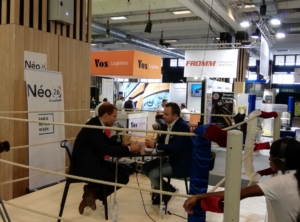 Mais la logistique est présente partout sur le salon : sur l'espace start-ups, sur les stands de la Chine ou d'Amazon.
Amazon met en avant sa marketplace Amazon business, à destination des professionnels : outillage, informatique, fournitures de bureau ou matériel médical. Cette plateforme a pour vocation de transformer le marché du B to B.
Autre innovation internationale de taille. Pour la première fois, les routes de la soie sont présentes. Le prestataire ferroviaire propose un service régulier par voie ferrée, entre la Chine et Duisburg, en seulement 2 semaines. La cible est directement l'importation de produits via les grandes plateformes e-commerce chinoises. Mais c'est aussi peut-être une opportunité pour rééquilibrer les échanges et faciliter l'exportation vers la Chine. Le transport par train, qui se présente comme un intermédiaire entre l'avion et le transport maritime, apporte une pertinence environnementale et constitue une innovation majeure.
La livraison collaborative est particulièrement présente, avec les start-ups Yper, Shopopop et Courseur, qui proposent des livraisons au départ des surfaces commerciales ou des drives effectuées … par des particuliers. Les discussions avec ces sociétés font état d'un marché en très fort développement. Les acteurs de la distribution, qui étaient très prudents jusqu'à peu sur ces formes de livraison, les considèrent maintenant comme des solutions pérennes et conformes à la réglementation.
Les livraisons décartonnées sont aussi très présentes sur le salon. La société Vert Chez Vous (groupe Labatut) annonce l'ouverture de son espace logistique urbaine de Lyon centre. Cet espace permettra la livraison de colis B to B et de palettes en moyens décarbonés.
Parmi les start-ups, nous avons relevé l'innovation présentée par la société Galam Robotics. Il s'agit d'un robot de stockage adapté aux petits espaces logistiques urbains ou aux réserves des magasins.  Cet automate de stockage particulièrement innovant permet de gagner des m² rares et d'optimiser le rangement des colis dans les réserves.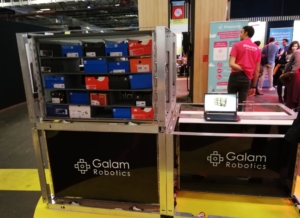 Un des événements du salon, c'est la table-ronde du 26 septembre à 10h30 sur la thématique « La logistique urbaine : enjeu serviciel et sociétal ». Jérôme Libeskind, expert en logistique urbaine et fondateur du bureau d'études Logicités, participera à cette table-ronde, en compagnie d'Alexandre Berger (La Poste), Antony Deniau (Franprix) et Pierre Beharelle (Norauto). Ne manquez pas ce débat qui promet d'être passionnant !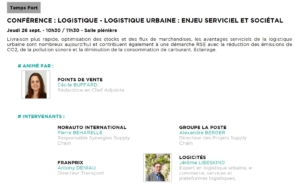 Bon Paris Retail Week 2019 !
https://logicites.fr/wp-content/uploads/2019/09/PRW1.jpg
1348
1819
Jérôme Libeskind
https://www.logicites.fr/wp-content/uploads/2015/07/logo_website.jpg
Jérôme Libeskind
2019-09-25 19:54:11
2019-09-25 19:54:11
Paris Retail Week : la logistique devient un axe central